Well, we've all read about the #dopamine pathways involved in #habit formation and #serotonin swings associated with changing #moods, but my favorite is Oxytocin.
Why? I'll tell you. Released by the pituitary gland, #Oxytocin is affectionately called the "Love hormone". Human beings have a neurochemical signature associated with social bonds, creating #trust and forming #relationships. This is the hormone responsible for that.
The MRI image below showcases an image captured of a mother kissing her child. See how the brain lights up with Oxy? And fathers out there, please don't worry – we can secrete exactly the same amount of Oxy as mums can!
I just love it when science comes alive in front of us to help us #growbetter and achieve a higher level of #performance.
If you'd like to more about the biology of #happiness and how to #hack your brain, then message me today. Let's talk!
Oxytocin
All thanks to Dr. Marcus Ranney who allowed me to post his work on my site. Please check his LinkedIn profile
Check out my other blogs.
Author Profile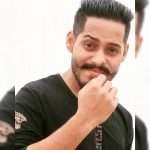 Hey Its..! Tech Lover , Ionic, Angular, Typescript, Dotnet Core, Node, Like Opencv, AI, ML, Robotics, Iot, Love Music, Cooking, Girls, Innovation
Latest Post by this Author