Marina bay sands,Singapore's most iconic luxury property, designed by Israeli architect Moshae Safdie.It's 57 storey tower connected by upper sky park. The sands hotel is famed for its extraordinary rooftop infinity pool.The world's largest rooftop pool stretching 150 meters across Sands Sky Park. Access to the Infinity Pool is restricted to registered hotel guests only via their individual room key card, which needs to be presented to gain access; one key card per person.
Infinity pool is like floating on world's largest rooftop a thrilling experience of city skyline from 57th level above.
Observation deck is located at skypark. Watching lighting show from observation deck is eye catching experience.Ideal timing to visit observation deck between 6:30 to 7:30 pm.
The hotel is looking incredible, with flower covered balconies and amazing terraces.Water and light show at mall was looking amazing.
As Singapore is worlds leading destination for trade,Marina bay is host for multiple business meetings.
Marina bay sands hotel in about 20min from Changi airport by car and near by bayfront MRT station.
There are about 20 dining options and a world-class casino available at Marina bay sands.
Here are some restaurants where dining can be wonderful-
CE LA VI: Restaurant and skybar at L57-01, North Sky Park especially for moden asian cuisine.Looking out at world class infinity pool with sip of cocktail is awesome experience.
Spago:Celebrity chef Wolfgang Puck's flagship restaurant, Spago is also located at sky roof Tower 2 Level 57. Special for Californian cuisine.
Note: Access to the Marina Bay Sands Casino or to conduct foreign currency transactions for individuals who are residents of Cuba, Iran, North Korea, Syria or Crimea Region of Ukraine are restricted by US affiliate.
Other most booked hotels near by marina bay are
PARK ROYAL: Near by Nicoll highway MRT station or Bugis where I had stay.
Front facing view to marina bay was ultimate from my room.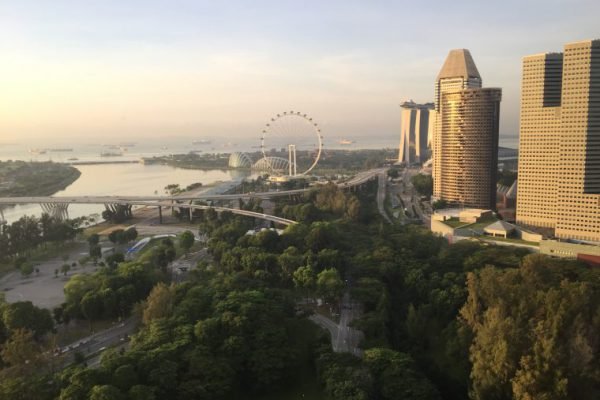 PAN PACIFIC:Besides Park Royal hotel.Near by MRT staions are Bugis and Nicoll highway
Author Profile
Passionate traveller,Reviewer of restaurants and bars,tech lover,everything about data processing,analyzing,SQL,PLSQL,pig,hive,zookeeper,mahout,kafka,neo4j
Latest Post by this Author